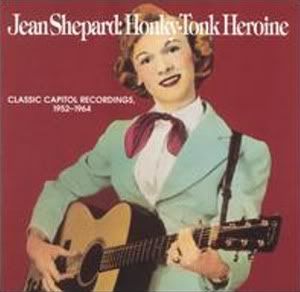 Download
01 Twice The Lovin' (In Half The Time)
02 Crying Steel Guitar Waltz
03 A Dear John Letter
04 My Wedding Ring
05 Two Whoops And A Holler
06 Don't Fall In Love With A Married Man
07 A Satisfied Mind
08 Beautiful Lies
09 Sad Singin' And Slow Ridin'
10 Under Suspicion
11 I Want To Go Where No One Knows Me
12 The Other Woman
13 Act Like A Married Man
14 A Thief In The Night
15 He's My Baby
16 How Do I Tell It To A Child
17 Color Song (I Lost My Love)
18 The Root Of All Evil (Is A Man)
19 Under Your Spell Again
20 One White Rose
21 I've Learned To Live With You (And Be Alone)
22 That's What Lonesome Is
23 Cigarettes And Coffee Blues
24 Second Fiddle (To An Old Guitar)
"You gaze at that guitar on your knee
In a way that you never look at me
This love affair of yours has gone too far
And I'm tired of playing second fiddle to an old guitar"
(From "Second Fiddle (To an Old Guitar)," Capitol Records, 1964)
* Kitty Wells may have been the reigning Queen of Country Music during the the 1950s, but in the eyes of many (including myself) Jean Shepard had at least as good a claim to the title. Whereas Kitty Wells, after the uncharacteristically defiant "It Wasn't God Who Made Honky Tonk Angels," reverted back to songs of domestic bliss and of being the "wronged woman," Jean Shepard kept pushing the boundaries for female country singers. Jean may not have pushed things as far as Loretta Lynn did during the late 1960s and 70s, but she laid the groundwork for Loretta and those to follow. Among Europeans, whose tastes in country music run to more traditional sounds, many regard her as the greatest of all female country singers, a sentiment that was echoed by such leading British county music journalists as Pat Campbell, Bob Powell, and David Allen. While I don't regard Shepard quite that highly, on my personal list of the greatest female country singers of all time, she would be well within my top five (greatest, as opposed to most popular or most influential, singers). During her peak years (roughly 1953-75) she was a definite force of nature.
Born Ollie Imogene Shepard on November 21, 1933 in Oklahoma, she was the child of parents who moved to Bakersfield, California, as a result of the Dust Bowl that engulfed the midwest during the 1930s. Since Shepard has been staunchly performing modern traditional country music for over sixty years, it seems only fitting that she grew up and started her career in the area surrounding Bakersfield, CA.
Jean began her career as a bass player in the Melody Ranch Girls, an all-female band formed in 1948. Not long thereafter, she came to the attention of Hank Thompson, who, impressed by her talents, helped her get a record deal with Capitol Records–where she worked with Thompson's producer, Ken Nelson. At the time she inked her deal, Shepard was still a teenager.
On her Capitol recordings, Shepard was a honky-tonker whose hard-core sound could rival any of her male counterparts. While her first single "Crying Steel Guitar Waltz" failed to chart, it showed enough promise for Capitol to team her with another promising singer, Ferlin Husky, for the 1953 chart-topper "A Dear John Letter," a song which resonated with many returning Korean War veterans. After this, the solo hits started coming with "Beautiful Lies" and "A Satisfied Mind" being among the biggest hits of 1955 ( "A Satisfied Mind" was also a major hit for Porter Wagoner and Red Foley, but after you've heard Jean Shepard's version, you will forget about the others).
Along the way, Shepard became a part of Red Foley's Ozark Jubilee (broadcast from Springfield, MO on ABC TV) from 1955 to 1957, and she was inducted as a member of the Grand Ole Opry in 1956, where she has remained a member to this day. It was during this period that Jean released what may have been country music's first album centered around a theme in Songs of a Love Affair. Shepard had a hand in writing all twelve songs on this album.
She continued to have hits throughout the fifties and sixties, although like many other traditional country singers her hits became increasingly smaller as rock 'n roll and the Nashville sound came into prominence. Lost in the shuffle were such excellent singles as "Act Like A Married Man," "Tomorrow I'll Be Gone," "I Used To Love You," and "Have Heart, Will Love."
In 1960 Shepard married Hawkshaw Hawkins, a minor star whose forte was his live stage shows rather than recording success. Jean was pregnant with his son Hawkshaw Hawkins, Jr. at the time of the 1963 plane crash that claimed Hawkins' life (as well as that of Lloyd "Cowboy" Copas and Patsy Cline).
After her son's birth, Shepard dealt with the tragedy of her husband's death by pouring herself back into her career. In 1964 she rebounded back near the top of the charts with the feisty "Second Fiddle (To an Old Guitar)," a song which spotlighted her yodeling ability. The next few years would produce more hits including "Seven Lonely Days," "Many Happy Hangovers To You," and a rare ballad "Another Lonely Night." She also teamed up with Ray Pillow for several duets, including the big hit "I'll Take the Dog" in 1966.
Between 1965 and 1970 Shepard charted fifteen Top 40 hits. Eventually, though, Capitol–blessed with a deep roster that included Wanda Jackson, Buck Owens, Merle Haggard, Glen Campbell and Sonny James–quit pushing her recordings to radio.
A switch to United Artists (UA) in 1973 re-ignited her career as her first single for the label, the Bill Anderson-penned "Slippin' Away," went to #4, and was followed by such great singles as "At The Time," "I'll Do Anything It Takes (To Stay With You)," "Poor Sweet Baby," "Tip of My Fingers," and "Another Neon Night." One of her UA albums, Poor Sweet Baby, was comprised entirely of songs written by Bill Anderson. Shepard remained with UA for five years. Since then she has recorded only occasionally for various minor labels.
Along the way, Shepard married Benny Birchfield, (best known for his tenor harmonies during his tenure with the Osborne Brothers bluegrass group). She also served as president of the Association of Country Entertainers, the perfect spokesperson for this very traditionalist organization.
Jean Shepard continues to perform regularly on the Grand Old Opry where she is indeed, the "Grand Lady of the Opry," and a national treasure. She also tours occasionally, sometimes performing with her son Hawkshaw Hawkins, Jr. She's lost a little off her vocal 'chops' over the course of time, but even 85% of Jean Shepard is a lot more than 100% of most singers.
The CD catalog for Shepard isn't what it should be, although the Bear Family boxed set titled Melody Ranch Girl is available. The folks at Collector's Choice Music describe it thus, "151 legendary Capitol sides from the woman who broke through the thick gender barrier in country music without looking back! This is everything Jean recorded from 1952–1964—from 'A Dear John Letter' up through 'Second Fiddle (to an Old Guitar)'—including her landmark album 'Songs of a Love Affair,' the first concept album recorded by a female country artist, plus her 'Got You on My Mind, Lonesome Love' and 'Heartaches and Tears' albums. A 36-page book with a newly researched biography, discography and rare photos completes the story."
For folks wanting to sample Jean's work without shelling out over $100, the pickings are fairly slim at the present time. Collector's Choice Music currently has only one title available The Best of the Best which contains but nine songs. I am not sure of the vintage of the recordings used on this particular disc.
The Ernest Tubb Record Shop currently lists eight titles available, including the above-mentioned Melody Ranch Girl boxed set and Best of the Best, plus the CD version of Stars of the Grand Ole Opry. I am not sure of the vintage of the recordings on the other sets available from Ernest Tubb, but if you call them, the folks taking your order often can give useful information.
The Country Music Foundation in 1995 issued the stellar Jean Shepard: Honky-Tonk Heroine, which has 24 songs taken from her tenure at Capitol. It may still be possible to obtain this disc. That same year Castle Communications (Australasia) issued A Satisfied Mind which has 26 tracks (17 Capitol recordings and 9 United Artist recordings)–this is the only set (of which I am aware) that contains original United Artist recordings.
Other collections available are of uncertain vintage. Jean has issued some CDs herself (Jean, Personal Favorites, and perhaps other titles) that are often remakes but contain some song titles otherwise unavailable.
(Paul W. Dennis)
This is our last kiss, our last moment of bliss
Darling, our love can never be right
For your ring's on her hand and my heart just can't stand
Stealing love like a thief in the night
Never more shall we meet on some dim-litted street
Darling, two wrongs just don't make a right
So I'm sending you home for I just can't go on
Stealing love like a thief in the night
Never more shall we meet on some dim-litted street
Darling, two wrongs just don't make a right
So I'm sending you home for I just can't go on
Stealing love like a thief in the night
(Artist: Jean Shepard
Songwriter: Harlan Howard)
---